Behind the Scenes of a Pantomime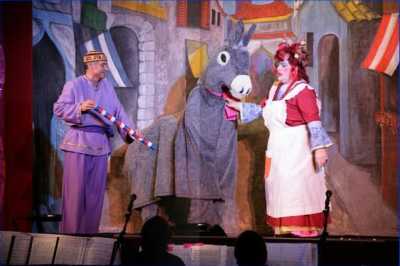 Front of House
Like to meet new people? Want to do something different?
Then why not help us Front of House? This means showing people to their seats and selling programmes at the beginning of the Panto and selling ice creams and drinks during the interval. Just helping two or three times during the run would help us enormously. If you don't like going out at night then you could help during the Saturday matinees.
Lighting and Sound
The society is fortunate in having very up-to-date computerised lighting and sound systems. The members already working in these areas will be only too happy to pass on their skills to you, or indeed to accept any knowledge and help you can offer.
Properties
Collecting together props for a production involves providing all the things (from a glass slipper to a magic bean) that are needed for that particular panto be performed. For some productions, props people will help the set designer 'dress' the set. Set 'dressing' is anything that is not used during a performance but improves the appearance of the setting (ornaments, photographs, vases of flowers etc.)
Seeking out, borrowing, or making props can be a challenging and fascinating task. The props team must also ensure that everything is either set in place on the stage, or available in the wings, at the appropriate time and place, to be brought on by the actor. After the production the props team returns everything to its owner or to the props cupboards. One or two people normally form the props team for a production and between them attend all rehearsals and performances.
Stage Management & Crewing
The backstage crew is vital to the success of all our shows. Each production needs a team of people to assist in rehearsals, assist with providing or making properties, and construct and dismantle the set. New members often find this an excellent way to integrate themselves into the society.
The Stage Manager is responsible for overseeing all practical aspects of the production and for managing the show on stage during the technical rehearsals and the performance weeks.
Crewing is an essential part of every theatre and everyone is welcome to take part in 'build-ups' (set construction) and 'strikes' (set dismantling), whatever their practical ability.
Prompting
Prompters attend rehearsals and, following the script closely, will feed lines to an actor whenever he/she has a lapse of memory. During a performance, the prompter will give a word or line if (a very rare occurrence!) the actor forgets. It's a very important role, needing patience and concentration but can be and often is fun.
Costumes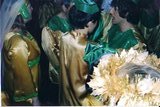 The department has a small store of stylized costumes and accessories used for Pantomime.
Each production is dressed in part from stock or hired. We also make individual costumes, alter and re-trim others.
In recent years the Pantomime Finale has been dressed in gold plus one colour i.e. green/red/blue, replicating the major costumes, demanding many hours of sewing.
Although known for Pantomime the company also perform musicals and short variety shows covering a spectrum of entertainment which we also dress.
Wigs/Hair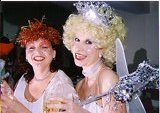 Wigs play a large part in dressing the pantomime characters. The Dame usually has three or four. A small stock of wigs and hair pieces are held plus many are hired, and we are fortunate to have 2 wig dressers among our members.



Makeup
A team of experienced makeup ladies have made up our shows since the 1970's, putting the final touch to our way-out, make believe productions. They hold monthly classes and welcome anyone who is interested to learn even the elementary art of stage makeup.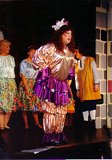 These departments always welcome enthusiastic help particularly with the wardrobe so, if anyone loves needlework and would like to join us, bring your measuring tape as there's plenty of warmth, laughter and tea available.